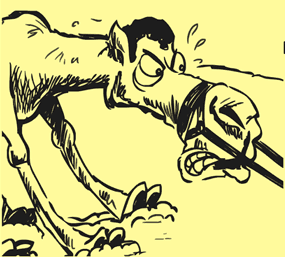 We've all been there at some time or another on a programme or project when a vendor metaphorically gives you the middle finger. Where no matter what you do or how you do it, you just can't get them to cooperate.
So how do you deal with a situation like this?
Here are a few tips that I've learned over the years…
Try and identify the problem and see if there is an amicable solution
Try to find out what is behind the recalcitrance. I've found that having an informal meeting somewhere neutral with just the vendor representative and asking what the problem is, worked in about 50% of the cases I've dealt with.
Go formal
Make sure that all correspondence is in writing instead of verbal. If you do agree something verbally, follow it up with an email outlining the discussion and clearly highlight any decisions and agreed timescales. I have had to do this 40% of the time and have had to take the final step in a small minority of cases.
Escalate
I've only ever had to escalate the problem to my steering committee in about 10% of the cases and in all of those it turned out there were serious problems within the vendor organisations that significantly impacted on their ability to deliver their solutions.
When I have escalated, it has always been in writing and I backed it up by showing the committee everything I had done to try and resolve the situation before asking for help.
Finally, don't be afraid to ask for help from your steering committee. Sometimes a one minute call from a senior executive may be all that is needed to resolve the impasse.