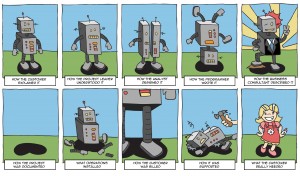 Many things can make or break a project, but in my opinion, one of the foundation stones of project success is the quality of the requirements that define the project.
Requirements management is something that should be taken seriously and is worth spending time on and doing well.
However, I realise it can be an arduous task.
It can be frustrating trying to gather requirements for something that hasn't even been designed yet or that may not even happen and it's tempting to get it over with as fast as possible with minimal effort.
Just as exasperating is spending months gathering requirements from all and sundry,  which means nothing ever goes anywhere and by the time the decision is made the whole process needs to start again from scratch.
Nevertheless, the consequences neglecting requirements management can be devastating for a project.
I've seen multi-million dollar projects with requirements so woolly they could be used to knit jumpers! And still people were surprised when the project failed to deliver what they wanted, or complained that the project went over time and budget when the scope had to be adjusted half way through.
Here are my six top tips to capture better requirements:
Understand that any requirements gathering will never be 100%.
Keep the number of stakeholders involved to one representative from each area of the organisation that will be impacted by the project, including the project team and by that I mean the project manager, the developers, the testers and the maintenance team. Any more than this and it becomes too complicated to manage.
Spend as much time as possible on gathering and refining the requirements. The more time spent at this stage getting the requirements clearly articulated, the less time will be spent on rework during the design & development stage.
Make the requirements gathering process as collaborative as possible. Ideally, there will be requirements gathering workshops with all of the key stakeholders in one room. Where this is impossible or impractical make sure that a master list of requirements is circulated often.
Make sure that there is only one feature or need per requirement.
If possible, store requirements in a central repository for easy access and management.
What would make your list?
For more on requirements management download our "Beginner's guide to requirements management" ebook here!