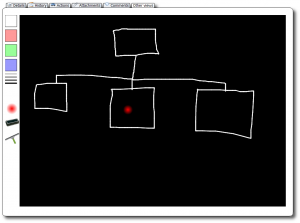 The latest release of Psoda has gone live and includes some pretty cool enhancements and new features:
We've had loads of positive feedback about our new whiteboard function and have added some more functionality to make it even better. You can now select a laser pointer to highlight specific items on the board, it appears on everyone's screen at the same time. Here is a screenshot of the laser pointer in action:
If you want to wipe the entire whiteboard you can do it at the click of a button with the wipe function, it removes everything but keeps the history for auditors (like me).
We've also added a replay function – reload the page and the whole whiteboard session is replayed.
There has also been some big changes on the portfolio views. We've added a dependency matrix to allow you to see dependencies between the members of the portfolio. Here is a screenshot of the new dependency matrix view:
The portfolio dashboard also includes a new Risks dashlet and a new Issues dashlets that shows all of the risks and issues for the members of the portfolio.
We've also spent some time tweaking the calculations around costing of tasks and task groups. The forecast cost can now be calculated based on the actual effort to date plus the estimated effort to complete. This is then rolled up into the task group and any linked budget group(s). The actual cost gauge for tasks and task groups now also works the same as the actual effort gauge.