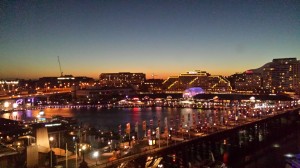 For this week's blog I thought I'd give you a bit of a look at a week in my role as CEO of Psoda.
Last week I was overseas for four days, this time in sunny Australia. I arrived in Sydney on Tuesday and immediately flew down to Canberra for the day, where I spent the time demonstrating Psoda to some potential new customers.
Wednesday was spent demonstrating the tool to another set of potential customers back in Sydney, as well as meeting up with some of our current customers. I also spent some time with our channel partners outlining the growth strategy for the coming year.
Thursday was spent scouting for data centres. With the rapid growth in our customers in Australia it's time that we had a physical presence onshore, so I played security auditor for the day looking for the best place to host our servers. Luckily it looks like I might have found somewhere.
I met more potential customers on Friday, as well as a potential channel partner.
Throughout all that I was answering the usual multitude of emails and support calls. I tend to get about 100 emails a day and get through about a quarter of those.
Sometimes I really do feel like the Chief Everything Officer of Psoda. For those of you who don't know where Chief Everything Officer came from, it harks back to the days where it was just me in the business and I really was in charge of everything!
I flew back to Wellington on Sunday and started all over again. Exciting, eh?