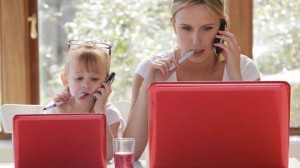 This week I thought I would write about something completely different. Having just returned to work after having a baby, I thought a post on the way tech companies can support women returning to work would be timely. Especially as women in tech is an issue that is being heavily debated globally.
As a new mum, I've really struggled with leaving my baby and have been very lucky in that I'm able to be flexible both in my work location and hours. It got me thinking about what companies could do to support current employees return to work and attract more women to their organisations.
Flexible working
One of the biggest things an organisation could do, in my opinion, is to offer truly flexible working. By that, I mean allowing people to work from home and/or set their own hours.
In this day and age with all of the technology available there should be less focus on presenteeism and more focus on actual work achieved.
For example, here at Psoda we have one of our dev team who works mainly at night – she can be found coding at 2 am most days. Just don't expect her to be around at 8 am. We don't care because we know that the work will be done to an excellent standard and if we do need her to be available for a day-time meeting we just need to give her a heads up the day before so she can adjust her work day accordingly.
Benefits package
Another area that should be looked at is the benefits package. For lots of parents one of their biggest costs is childcare. If companies were able to offer childcare vouchers, or an onsite nursery or crèche that would go a long way towards making their workplace more attractive.
My baby is the first new member of the Psoda team to be born but as our junior squad grows we're looking at putting in an on-site nursery for our staff.
Paid parental leave is something that organisations should definitely consider. It's much harder for small businesses to offer this but it is something that will go a long way towards helping staff retention. Here in New Zealand, we are currently entitled to 16 weeks paid paternity leave with a maximum payment of approximately $500 per week and this can be split between both parents. I couldn't contemplate going back to work at 16 weeks and $500 does not go far. Again, I was lucky that my employer let me start back after 20 weeks and topped up my parental leave.
Include new dads
My last suggestion is that companies make any benefits that they offer new mums available to new dads as well. After all, they have become parents too and more often than not would like to be just as involved with their children as their partners. By giving dads the same opportunities as mums it will go a long way towards redressing the balance of mothers having to take time out of their careers to support children while the dads continue to work.