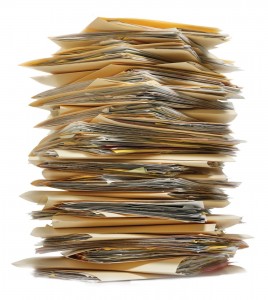 Document management is one of those ongoing project tasks that need to be done again and again and again. It's also one of those things that if it isn't set up correctly in the first place, it can come back and bite you later on.
Unless you work for a large enterprise or Government department, it is likely that you won't have a formal document management policy. So how do you make sure that everyone has access to the most up to date project documents?
You might have a document management system that is either set up for you or that you need to configure yourself. If it's all set up for you, then you're good to go and don't need to read further!
If you're yet to set up a system or don't have one, then read on for five essential tips for effective document management:
Tip 1 – Pick a file structure
First, decide on a file structure for your documents. This doesn't need to be complicated but it should have enough detail to make finding documents easy. You should definitely go no more than three layers deep. Any more than that makes it cumbersome to use and difficult to find information.
A document structure might be:
Project phase, e.g. Initiation
Planning documentation
Schedules
Reports
Requests
If you keep the same structure between different projects then it will be much easier to move between those projects.
Tip 2 – Be consistent with naming and numbering
Once you've decided on a file structure, come up with a consistent naming and numbering convention for the documents. For example you could use the project name with a document type and version number. This way anyone could look at the document and know exactly what project it relates to, the type of document it is and the version number.
Tip 3 – Control only key documents
There's no point trying to control documents that change often, for example the project schedule. That's a path where insanity lies Examples of documents to consider controlling are:
Project initiation document
Business case
Final reports – weekly and monthly
Tip 4 – Have one document controller
Make one person in the team the document controller and file all document management tasks through them. This stops old documents being issued or current documents going astray.
Tip 5 – Create a document list
Create and maintain a central list of all of the project documents showing the name, current version and location of the master copy. This will make it much easier to find something when the need arises.
These tips can be used whether or not you have an electronic document management system, are using a networked shared drive or a paper system.
One thing to keep in mind that I haven't covered here is legal requirements. You should make sure you comply with all local legislation before destroying or archiving documents related to your project.
How Psoda can help
Psoda has a comprehensive electronic document management system. Some of the features include:
Grouping documents into folders that you can name
Automated version control
Automated file history
The ability to set up a template project that you can copy for easy set up
To find out how Psoda's document management system works, sign up for a free 30 day trial.