We're proud to present our new Showcase video series, which highlights some of the awesome current and new features you will find in Psoda's portfolio, programme and project management tools. In
Kanban is a system to control the logistical chain from a production point of view, and is not an inventory control system. Kanban was developed by Taiichi Ohno, at Toyota,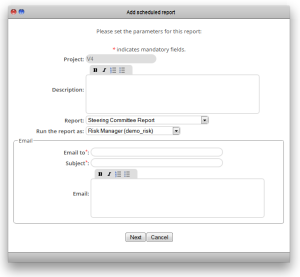 We're pleased to announce that it now possible to generate scheduled reports automatically in Psoda. While Psoda has supported professional reports for a long time, until recently you had to log into Psoda and manually run the reports every time you needed one. You can now schedule a report to run automatically at a regular interval with the report emailed to you in your preferred format. For example, you may set up a schedule to run your project status report on the 2nd of every month at 2am in the morning and email you a Microsoft Word version of the report. Of course this will save you from having to log in and manually run your reports every time, but you can go further than that. For example you could set up scheduled reports to match your communication plans and automatically email those reports to your various stakeholders.