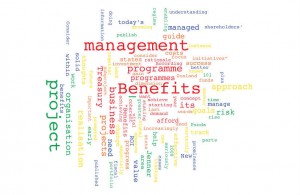 Do you have a solid approach to identifying and tracking benefits in the projects you manage? If not, it's time to seriously consider doing so. Especially as understanding of the value of an effective benefits management regime – and the risk of its absence – is on the rise.
Benefits management – often also known as benefits realisation – is used to plan the benefits (or goals) you want to achieve for your organisation, programme, project or sub-project; and to track the progress on achieving those benefits.
While it is certainly not a new concept – Psoda published its own 101 guide on benefits management back in 2008 – it is starting to gain more prominence.
For instance, the growing need within the state sector for coherent information on how all the parts of benefits management work together, prompted the New Zealand Treasury to publish a guide on better business cases and benefits management last year.
According to Treasury, the demand for such guidance is a signal that benefits management will be an area of greater focus in the future, stating: "Benefits management will play an increasingly important role in enabling an organisation to manage within its fiscal constraints."
So why is benefits management so vital?
Consider these words from leading benefits realisation management expert, Stephen Jenner:
"Benefits are not just one dimension of portfolio, programme and project management; rather, they are the rationale for the investment of taxpayers' and shareholders' funds in change initiatives."
Jenner also states that without effective benefits management, the risk of project failure increases greatly.
In a paper prepared for European examination institute APMG-International, he points to research which found deficiencies in capturing benefits hamper nearly 50% of government projects, while 30 to 40% of systems to support business change deliver no benefits whatsoever.
Such figures are astounding, and clearly underscore the need for a proper benefits management approach, particularly in today's economic climate.
As Treasury states in its benefits management guide: "In today's environment Treasury expects financial management to provide assurance that finances of significant projects and programmes are under control, costs are managed, value for money is optimised, the ambitions of the projects and programmes are achieved, and the benefits realised."
Here are our top-line thoughts on how to approach benefits management successfully.
Identify benefits early
You should identify the benefits at the business case phase of the project and take a baseline. Establishing benefits goals early on and objectively can help prevent what Jenner describes as 'cognitive biases' affecting benefits forecasting. He argues these biases can result in people overemphasising a project's potential benefits and underestimating likely costs, going so far as to spin success scenarios while ignoring the possibility of mistakes.
Track benefit realisation
Benefits should be measured regularly throughout the lifecycle of the project to make sure the ROI is still valid and after project closure. Also, on-going benefits measurement should take place until they are realised.
Link project & organisation benefits
Don't manage project benefits in isolation. Link them to the programme and organisational benefits. Benefits management should not be the responsibility of the project manager. The business owner, or someone else in the affected area of the business, need to own and manage the benefits.
As argued in an earlier blog, project and programme managers just cannot afford to risk not showing the ROI for their work. Therefore, we believe having a solid benefits management approach is essential for ensuring the success of projects and programmes.
For any advice on how Psoda's benefits realisation tool can help set the strategic direction for your organisation, programme or project and track progress toward your goals, drop us a line.
And share your thoughts on the value of benefits management in the comment section below.