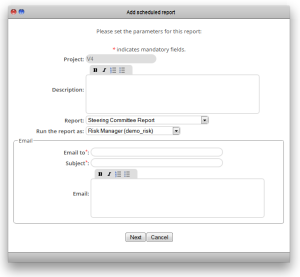 We're pleased to announce that it now possible to generate scheduled reports automatically in Psoda.
While Psoda has supported professional reports for a long time, until recently you had to log into Psoda and manually run the reports every time you needed one.
You can now schedule a report to run automatically at a regular interval with the report emailed to you in your preferred format. For example, you may set up a schedule to run your project status report on the 2nd of every month at 2am in the morning and email you a Microsoft Word version of the report.
Of course this will save you from having to log in and manually run your reports every time, but you can go further than that. For example you could set up scheduled reports to match your communication plans and automatically email those reports to your various stakeholders.
To set up a scheduled report:
1. Navigate to the tab where you would normally run the report from. For example, navigate to your project and then select the Reports tab.
2. You'll still see the reports at the top of the tab, but at the bottom you should now see a new table showing the scheduled reports for that project. If you don't see this table this functionality has not been enabled for you yet. Please contact your Psoda administrator to enable this for you.
3. Click on the little green plus icon to add a new schedule.
4. In the popup the first step is to enter a description for this scheduled report. Select the report you want to run and enter the email details. If you have Administrator rights then you can also select which user to run the report as – this will limit the information that is included in the report to only those that the user has permissions to view. The screenshot below shows this first step:
5. Once ready, click on the Next button to move to the next step. You can now select the format you want the report in and also set the parameters for the report:
6. When you are ready, click on the Next button to move on to the schedule for your report:
7. This is the last step of creating your scheduled report. Select which months you want to run the report in, e.g. you might select all of the months except for December because of holidays.
8. Next you can select to run the report on a particular day of the month or every week on a particular day of the week.
9. Finally, select the time of the day you want to run the report.
Using scheduled reports can save you a lot of time if you are running reports at regular intervals. It can also automate portions of your communication plan by automatically running and distributing your reports to the project stakeholders.
If you are not already using Psoda to manage your projects and you'd also like to have automatically scheduled reports then you can sign up for a trial account over here: https://www.psoda.com/global/registration