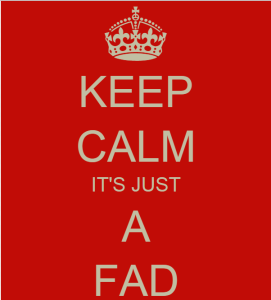 Happy January! It's that time of year when the latest fad diet to take the world by storm is hitting the news.
Funnily enough the same thing is happening to me with new project management methodologies.  In the last few days I've had three different customers ask me about implementing the latest and greatest new project management methodology and it got me thinking about how the two very different topics compare and if the same things that constitute a fad diet are also present in new methodologies.
Before I get into the comparisons it's worth noting that not all new methodologies are fads and some do bring positive changes to the organisations that use them as well as positively influencing other standards.
So what do the two fads have in common? Like fad diets these methodologies offer:
Seductive claims
Who doesn't want to see quick results? Whether it's weight loss or improved processes it's a claim is most likely to get people to look at the methodology further.
Filled with buzzwords
Faster, better, easier. Using the latest and greatest industry buzzwords is designed to build instant credibility and give the audience confidence that the product will do what it says it will.
Magical properties
Loosely citing "experts" in the field that have tried the product and provide glowing references are a common way to big up a product.
Evil standards
Subtly and, in some instances, not so subtly disparaging the competition is another common tactic used to make the new product appealing to a wider audience. After all, who wants to be behind on the next big thing?
What now?
As I said earlier, not all new methodologies are fads so when you evaluate the next big thing it's more than likely that you'll come across a nugget or two of really good information that you can make use of.
Just be wary of getting sucked into the hype and throwing away years of hard work that's gone into using your current methodology on a whim.