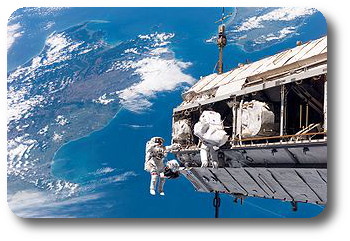 You may have heard a fair bit in the news about the International Space Station lately. This has largely been due to Canadian astronaut Chris Hadfield, who during his recent tenure as commander of the station became a media and social networking star for sharing amazing photos, videos and science lessons from orbit.
He even recorded what's believed to be the first-ever music video made in space.
While the buzz generated by Hadfield has been great publicity for the International Space Station, it has overshadowed one fundamental question, which has dogged the project from the start – is it really worth its $100 billion price-tag? What can this lesson from space teach us about managing projects here on Earth?
This was the topic of a Space.com article back in 2010, and remains a relevant question today.
Before any project gets off the ground, you would hope that the costs and benefits have already been carefully weighed up to make sure they balance out.
You would also expect the project plan to include measures to track when the project costs begin to spin out of control, and start to outweigh the benefits.
But even for projects such as the ISS, with billions of dollars at stake, this does not always seem to happen.
While NASA estimates the International Space Station has cost US taxpayers $50 billion since 1994, with a host of other nations also chipping in to make up $100 billion overall cost, it seems to have been unable to definitively show if the investment in the station will ever really pay off.
Critics argue that with a billion dollars – a fraction of the cost of the station – NASA could have funded the work of 1,000 scientists on Earth for five years.
This teaches us two very important lessons about managing projects efficiently – no matter how big or small:
Understand the cost/benefit ratio of a project
Know when to make the call to stop or suspend a project when the cost outweighs the benefits
Asking something that costs $100 billion to justify its existence is a tall order. While NASA may be able to get away with such stratospheric costs without showing definite ROI, back on Earth, in the project management world, we don't have that luxury.
Generally we all have to justify the cost of our projects and show what ROI they will deliver.
So make sure you fully understand and can keep track of the cost to benefit ratio of a project.
This will help you know when to make the call to stop or suspend the project when the cost outweighs the benefits.
Trying to abandon the mission when the rocket is already sitting on the launch pad with its thrusters ready to ignite, is probably too late.
Any project manager worth their stripes should know when to pull the plug before a project has progressed too far.
That is unless they can call on a tweeting and singing astronaut to distract business owners from their budget blow-outs, of course. Perhaps that's the true lesson from space?