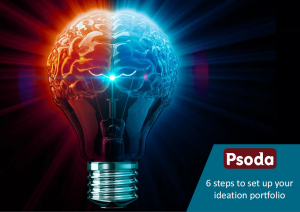 Have you ever had the most awesome, super-duper idea that, if implemented, would save your organisation a gazillion dollars and make you a millionaire? What happened when you gave the idea to your manager? Did he or she do anything with it? Did you receive feedback?
Or did it disappear into the ether to a) never be heard of again or b) be claimed by someone else who got all the glory?
Organisations around the world are realising that the best source of ideas generally come from the inside and are implementing programmes to capture, analyse, score and implement them.
If you're looking to set up an ideation portfolio then you need to download this e-book!
http://www.psoda.com/downloads/6 steps to set up your ideation portfolio.pdf